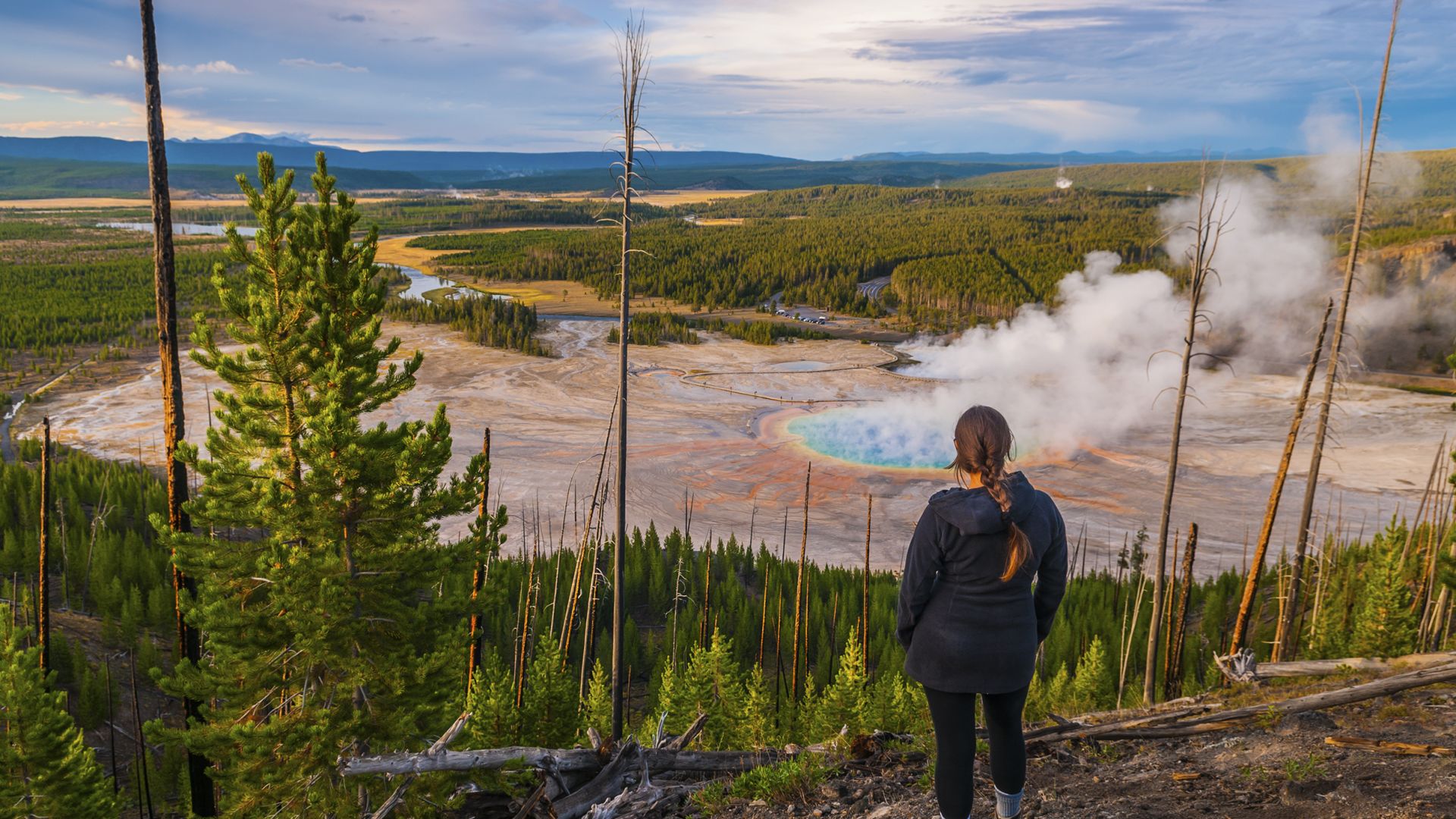 A place to truly get away from it all.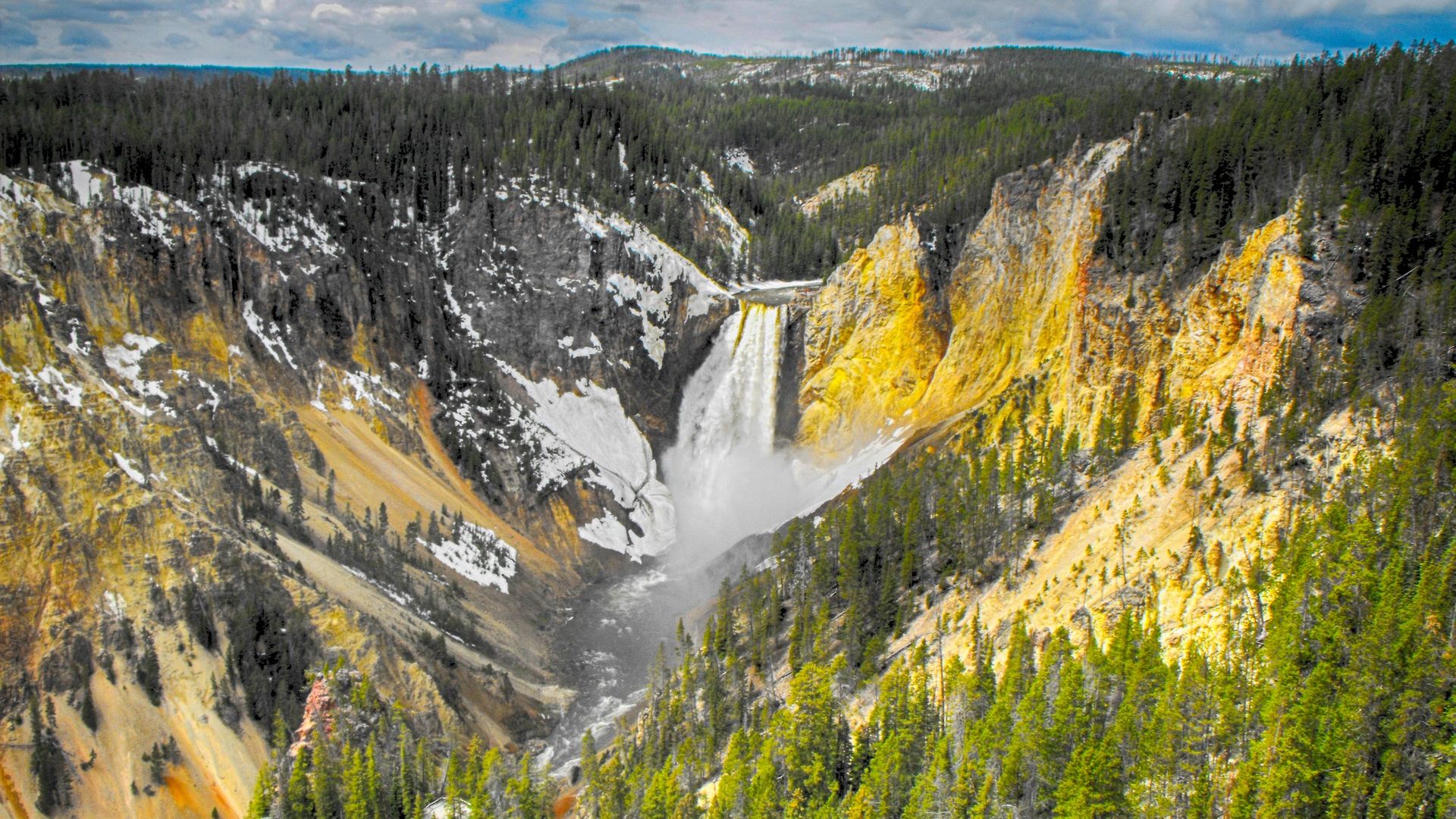 Stunning natural beauty.
Yellowstone National Park
During your stay in Jackson Hole, you'll definitely want to check out Yellowstone National Park.
Preserved within Yellowstone National Park are some 10,000 hot springs and geysers, the majority of the planet's total. These geothermal wonders are evidence of one of the world's largest active volcanoes; its last eruption created a crater, or caldera, that spans almost half of the park. Yellowstone was established to protect these geysers, as well as the incredible animal life and landscape the park encompasses.
Below are the top questions we receive regarding the park. Please use this guide to help you plan your visit!
When is Yellowstone open?
Jackson Hole is closests to the South Entrance to the park and visitors can enjoy access via the South Entrance from May through early November. During the winter and spring months, roads and entrances are closed to motor vehicle traffic, but visitors can still enjoy Yellowstone National Park from December 15th through March 15th by joining snowmobile or snowcoach tours offered by licensed tour operators. Schedules and access varies throughout the year, but the park gates are open twenty-four hours a day during the months of July and August.
How far is Yellowstone from Jackson Hole?
Jackson Hole is located just 60 miles from the south gate of Yellowstone National Park, making Jackson an ideal base to explore the park's incredible natural landscape, expansive backcountry, and the wide variety of activities.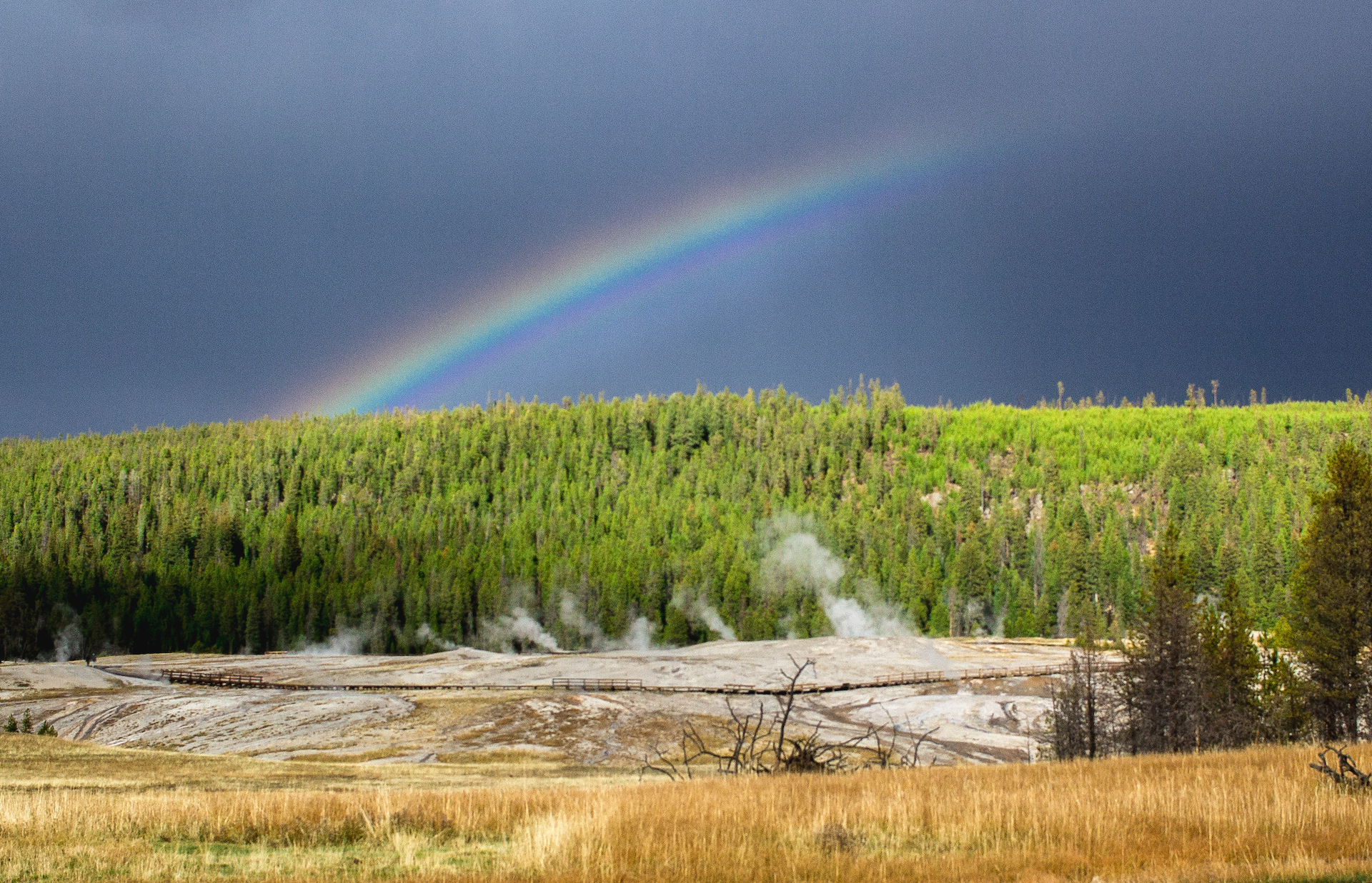 What is there to do in Yellowstone National Park?
Visitors looking to get away from it all will find plenty of camping and hiking opportunities. The Grand Canyon of Yellowstone is just one of the park's many famous areas, boasting stunning vistas of the Upper and Lower Falls of the Yellowstone River and providing plenty of opportunities to view the wildlife native to Yellowstone.
Visitors can enjoy a wide variety of activities in this protected park, from hiking and camping to bicycling and boating. Kayaking is among the most popular activities in Yellowstone. Professional guides will teach you kayaking techniques, and take you on tours on Yellowstone Lake, including up-close views of geysers. This is a fun way to get a close view of the geysers and other types of geothermal features that are so prevalent in Yellowstone National Park. The experts at Jackson Hole Central Reservations can help you plan kayaking in Jackson Hole and Yellowstone National Park, plus provide recommendations on ways to enjoy all the park's features.

What kind of wildlife can I expect to see in Yellowstone?
Yellowstone is home to grizzly bears and wolves, along with free-ranging herds of bison and elk. Moose, black bears, mule deer, pronghorn, and other species are also present in the park. It is the core of the Greater Yellowstone Ecosystem, one of the largest intact temperate zone ecosystems remaining on the planet. Learn more about all the amazing wildlife you may observe during your visit.
Is fishing allowed in Yellowstone?
Yes, anglers will find ample opportunities to fish throughout Yellowstone National Park. The fishing season begins the Saturday of Memorial Day weekend, which typically falls on the last weekend in May. Park visitors can enjoy fishing throughout the summer through the first Sunday in November when the park roads close to motorized vehicles.
Anglers can catch cutthroat trout in many of Yellowstone's lakes and streams, but keep in mind fishing is only allowed in certain areas and with permits. For example, Fishing Bridge was a popular fishing spot until 1973 as it spans a cutthroat trout spawning area. Fishing from the bridge is now prohibited, although it is a popular spot to observe the fish below. Most importantly, know the rules and regulations before fishing in Yellowstone National Park. Guides are available to answer all your questions and make sure you're properly prepared for fishing in Jackson Hole and Yellowstone National Park.

What's the history behind Old Faithful?
Old Faithful was the first geyser in the park to receive a name, from the Washburn-Langford-Doane Expedition in 1870. Since then it has become one of the most iconic landmarks in National Park history. Described by the team at first sight as "the perfect geyser," Old Faithful became somewhat of a washing machine for early expeditions and traders who would put their clothes in and let the force and heat of the water spouting rid their garments of dirt. Eruptions of Old Faithful can spout 3,700 to 8,400 gallons of extremely hot water to heights of 185 feet. Blasts from the geyser can last between one and a half to five minutes. Despite National Park lore that the geyser shoots steaming water every hour, eruptions usually occur about 90 minutes apart, but intervals can vary from 45 to 125 minutes. Old Faithful is also not the tallest or largest geyser in the park, despite what its reputation might lead people to believe. That title goes to Steamboat Geyser, which is known to blast water over 300 feet high!
When was Yellowstone National Park established?
Established on March 1, 1872, Yellowstone National Park is the first and oldest national park in the world. It is known for its famous geysers (like Old Faithful) and abundant wildlife and is one of the largest intact temperate zone ecosystems remaining on the planet.

What's the history of Yellowstone prior to being named a National Park?
Native Americans made the park their home for thousands of years. Early European descendants found their way into the park in more recent centuries. Today, park visitors continue to be welcome within this one of a kind natural habitat.
The naming of Yellowstone as a National Park came about at the behest of the Northern Pacific Railroad Company. Northern Pacific was expanding their business into the Montana Territory and looking for ways to encourage tourism in the region. The nearby area of what became modern Wyoming (at the time known briefly as part of the Dakota Territory) included the beautiful lands of Yellowstone. Northern Pacific began promoting the park as an attraction by way of commissioned sketches of the land, as well as a lecture series on the region's majesty given by a politician with financial interests in the railroad company's expansion. Lobbying for an expedition of the area led to the Washburn-Langford-Doane exploratory party in 1870, followed two years later by the Congressional enactment of the Yellowstone Park Act.
Ready to book your Jackson Hole vacation or have some additional questions? Feel free to contact one of our local travel experts!
You May Also Like
Related Blog Posts